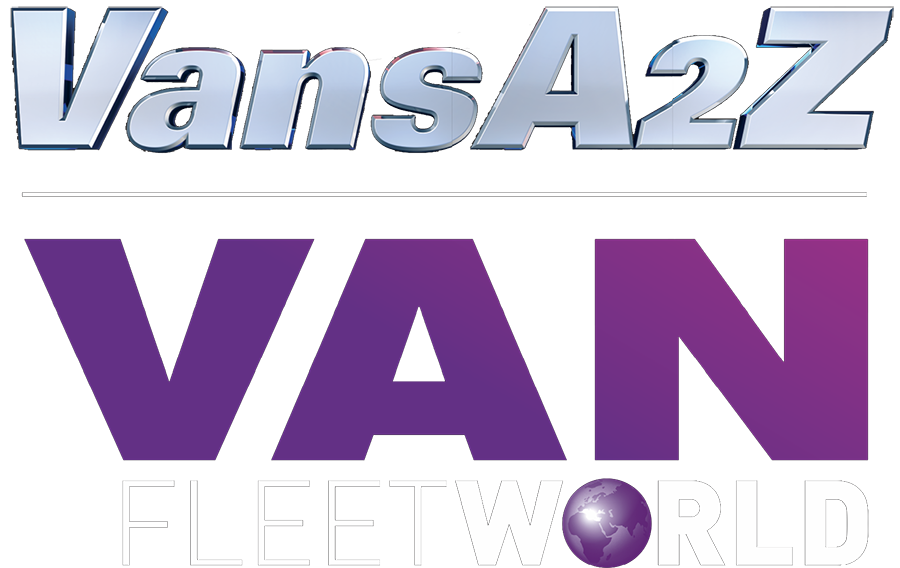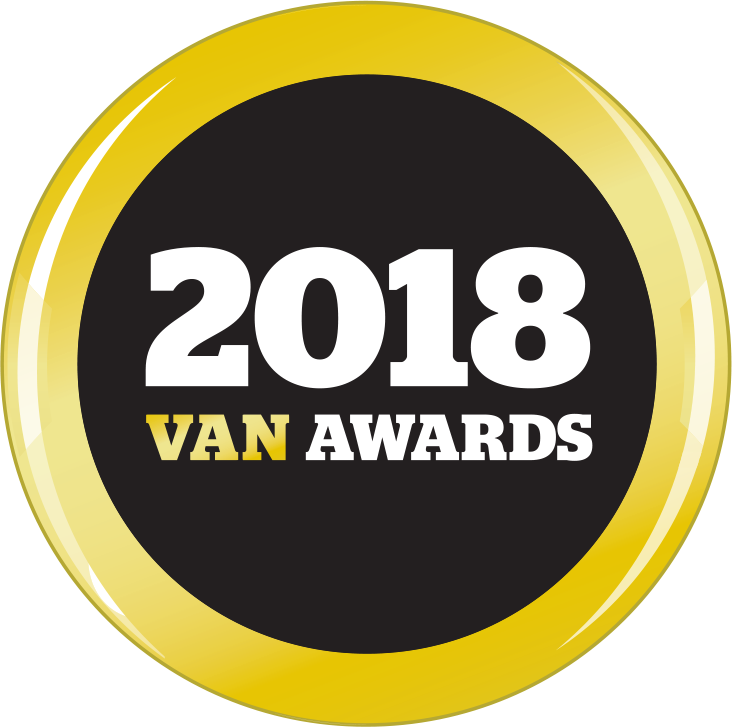 ---
Presented by Dan Gilkes, editor, VFW
and Neil McIntee, editor, VansA2Z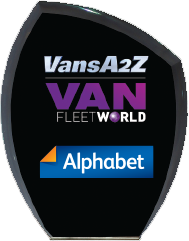 Best Van Fleet Management
Alphabet (GB) Smartsheet Build & Conversion Management
---
Dean Hedger picks up the award for Best Van Fleet Management, with Neil McIntee (left) and Dan Gilkes (right)
"Alphabet has created a commercial vehicle build and conversion tool based on Smartsheet, that provides vehicle arrival dates from OEM to converter, build start and completion dates and the date the vehicle will be available to the customer."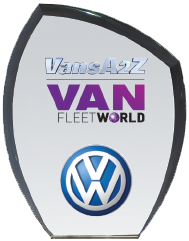 Best Van Safety
Volkswagen AEB
---
James Allitt picked up the award
"By making autonomous emergency braking (AEB) standard on all of its new vans, Volkswagen has ensured that all drivers benefit from what Thatcham Research calls 'the most significant development in vehicle safety since the seat belt'."
Best Van Innovation
CoolKit Refrigerated Box Body
---
Cameron Javid picked up the award
"CoolKit carried out an evaluation within the food delivery market and found new methods of construction, with honeycomb section, high density blown PET and sheet-textured GRP flooring, that have saved up to 150kg
of load capacity."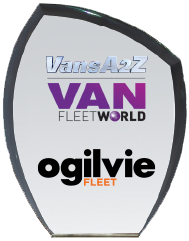 Best Daily Van Rental
Ogilvie Fleet
---
Jim Hannah picked up the award
"Ogilvie Fleet launched Ogilvie Rental in 2017, accompanied by a dedicated website. The site provides access to more than 120,000 commercial vehicles at more than 2,000 locations, with vehicles available within a two-hour time frame if required."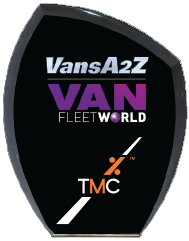 Best Technology
TMC
---
Bill Chambers picked up the award
"TMC created Fuel+, using fuel, telematics and journey data to reduce fuel costs, provide visibility over fuel usage and to identify where ULEVs can be deployed. It has already saved £1.2m in business fuel for one client."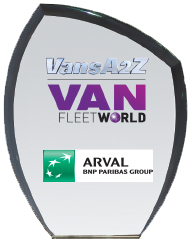 Best Lease Provider
Arval
---
Gary Burns picked up the award
"Arval has reduced downtime for LCV customers by looking at every step of the vehicle life cycle, including initial vehicle requirements, sourcing the right van at the right time, complete in-life support, downtime management and a flexible return process."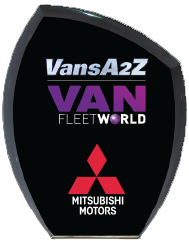 Best CDV
Mitsubishi Outlander Commercial
---
Amanda Gibson picked up the award
"The Outlander Commercial is a light commercial that is completely at home in any working environment. It boasts a deceptively cavernous load area, comes with selectable four-wheel drive and can be had with either a diesel engine or petrol/electric drive system."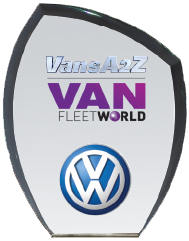 Best Light Panel Van
Volkswagen Caddy
---
James Allitt picked up the award
"An excellent load capacity-payload-footprint ratio, not to mention fuel efficiency and driveability, Volkswagen's Caddy offers a stylish exterior design and boasting a choice of diesel and petrol engines, not to mention manual or automatic transmission."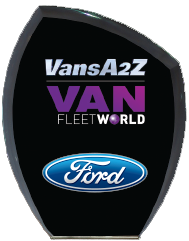 Best Small Van
Ford Transit Courier
---
Iain Brooks picked up the award
"A revised version is due to be unveiled at the CV Show next month, but thanks to its car-like interior, great chassis and fuel-efficient engines, the Ford Transit Courier is the Best Small Van for 2018."
Best Medium Panel Van
Ford Transit Custom
---
Iain Brooks picked up the award
"We've always been impressed by Transit Custom and the latest version is no exception. It was heavily revised at the end of last year with improved refinement levels, a new cab interior and the addition of an automatic gearbox option."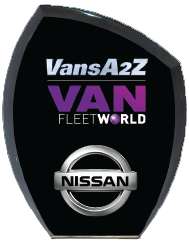 Best Pick-up
Nissan Navara
---
Mark Wilson picked up the award
"We're long-time fans of pick-ups and it takes a lot to impress us. Very refined both on and off the road, especially in terms of ride quality, Nissan's Navara remains our number one choice
in the pickup market."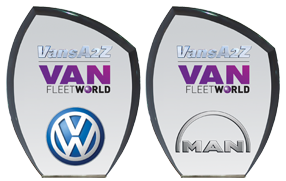 Best Large Panel Van
Volkswagen Crafter /
MAN TGE
---
James Allitt and Simon Wood pick up the joint award for Best Large Panel Van
"The standard of every model in this sector is so high, but the prize goes to a range of vans that raised the bar in terms of usability and technology, offering the widest choice of drivelines and body capacities."
"Working as an integral part of the Volkswagen Group, MAN has been able to move into the large van market with the introduction of a full range of TGE models, which will no doubt appeal to many of
its heavy truck customers."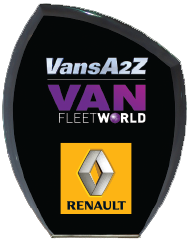 Best Electric/hybrid
Renault Kangoo Z.E.
---
Kayleigh Robson picked up the award
"Renault's Kangoo was the first manufacturer-developed pure electric van to come to market and thanks to a recent round of improvements, including an extended real-world range, it remains our pick of the growing number of eLCVs on offer."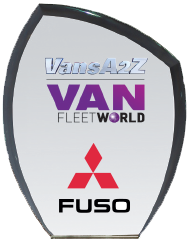 Best Light Truck
Fuso Canter
---
Lloyd Bonson picked up the award
"Available with a semi-automatic twin-clutch gearbox and stop/start system, a first in this sector, not to mention the possibility of an all-electric drivetrain, the Fuso Canter and eCanter offer exceptional carrying capacities and low operating costs."
Editors' award
Mercedes-Benz Sprinter technology
---
Andrew Eccles picked up the Editors Award
"Mercedes really is taking a new approach to Sprinter, offering customers a massive range of solutions, to meet the needs of a wide variety of industry sectors, including built-in connectivity, in-house telematics and a range of Mercedes PRO location-based packages."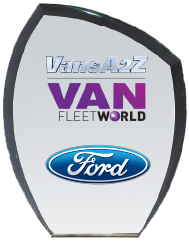 Van of the Year
Ford Transit Custom
---
Iain Brooks and Phil Daniel pick up the award
"Bristling with the latest active safety features, connectivity and driver comforts, including the option of an automatic transmission and much improved levels of refinement, a recent update brought Custom bang up-to-date. It's a package that few can beat."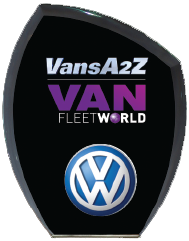 Manufacturer of the Year
Volkswagen Commercial Vehicles
---
James Allitt picked up the award
"Not only has Volkswagen Commercial Vehicles developed an award-winning range of products, that span the requirements of the majority
of operators, it has also put in place an industry-leading specialist dealer and service network, to support customers."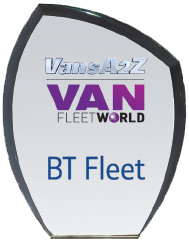 Best Service, Maintenance & Repair
BT Fleet Solutions
---
Henry Brace picked up the award
"BT Fleet Solutions invested more than £1.6m in its SMR offer last year. It extended its working hours, tripled its repair network, introduced mobile technicians and brought further digitisation to improve efficiency."